Industrial Data Communications
and Embedded Systems Solutions
Phaedrus Systems will carry the full range of IXXAT Data Communications products.
With over 25 years experience, IXXAT is an accomplished supplier of products and services in the fields of embedded systems and data communication for industrial automation and automotive applications.
With one of the most comprehensive ranges of hardware and software products for data communication in the industry, engineered and manufactured in Germany, IXXAT has earned a worldwide reputation for performance, high quality, product longevity, in stock delivery, impeccable customer service and technical support.
The USB-CAN V2 is the next generation of the well-known IXXAT USB-to-CAN interface. With up to two CAN High Speed channels, one CAN Low Speed channel, and a LIN channel, depending on the device variant, a wide variety of applications can be addressed in both the industrial and the automotive sectors. > Link to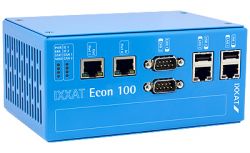 With the IXXAT Econ 100 an extremely flexible master solution for DIN rail mounting is available at a compelling price. Different protocol stacks are available for the IXXAT Econ 100 and can be delivered pre-installed on the device: EtherCAT Master, POWERLINK MN, CANopen master. > Link to
The IXXAT PC/CAN interfaces enable PC applications to access CAN networks with an uniquely variety of different PC interface standards. The customer can select an optimum PC/CAN interface according to the application, performance requirement or required unit costs. > Link to
Industrial Ethernet
More information to follow shortly. (December 2014) > Link to
SAFETY
More information to follow shortly. (December 2014) > Link to
IEE 1588
More information to follow shortly. (December 2014) > Link to
SIMATIC CANopen Extensions
More information to follow shortly. (December 2014) > Link to
TCP/IP Protocol stacks
More information to follow shortly. (December 2014) > Link to
IO Modules
More information to follow shortly. (December 2014) > Link to
Embedded Communications Moduel
More information to follow shortly. (December 2014) > Link to
IP CORE
More information to follow shortly. (December 2014) > Link to